I gave up on doing this as a podcast, too much work. Instead, a few select pictures from each day on the tour. Clicking one makes it larger remember.
While you browse, a little Johnny Horton to keep you company:

Tour de Anchorage (53 miles):
Lunch at Glen Alps overlooking Anchorage. The 12-19% grades on the climb went over like a fart in church with most riders, but really, for a hearty bunch like ya'll, it really wasn't that big of a deal was it? At least it had stopped raining by then, and you have to admit those moose sliders for lunch were worth the climb!
Happy Wife takes a bow (sort of) for lunch well served:
Anchorage to Eklutna Lake & Back (77 miles):
These cyclists were happy to see the sun.
A short stop at Mirror Lake before venturing on. Funny, we met two cyclists on their way to Denali who rode with us for a bit, who not only knew a few people in our group from Colorado but they'd been on a heart cycle tour or two in the past as well. Small world.
Don't forget to turn around. Sometimes the coolest pics are behind you.
Potter Valley Road to Girdwood & Back (56 miles) :
Got bike path?
Is that all there is for lunch? Two kinds of empanadas, smoked salmon w/cream cheese, wide variety of sandwich fixins, chips, fruit, and desert? Sheesh.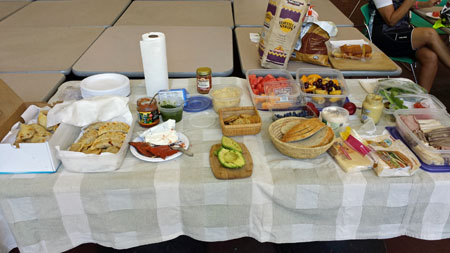 Palmer, AK to Independence Mine State Park & Back (44 miles, ~ 4000′ climbing!):
Now, you can't get after me for this climb; I did mention it was steep, and I did promise warm temperature. You go girl!
Almost lunch. Another 2 miles or so. Okay, you're right, it's still up, but wait until you taste the sandwiches. They have olive tapenade on them and they were individually wrapped by happy wife!
Finally — lunch!
Bird Point to Summit Lake Lodge (51 miles):
All of us save Marilyn. ("Marilyn where did you go?!"). Sally far left. I'm the one in the middle in house slippers.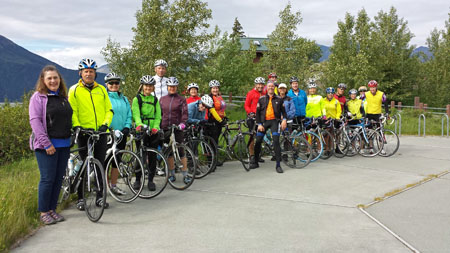 I think we'll make this our Christmas card photo.
Sunshine + Ice Cream + (too much wine) = Group hug.
Dinnertime.
A lone rider texts home: "You'll never believe where I'm standing right now."
What every bike tour leader wishes to see in the morning: Bluesky!
Summit Lake to Seward (w/ out 'n back to Exit Glacier) (61 miles) :
Last lunch venue. Ho-hum.
So pretty you need to see it again.
I told them, stop and wait for us when you see the lady in the martini glass.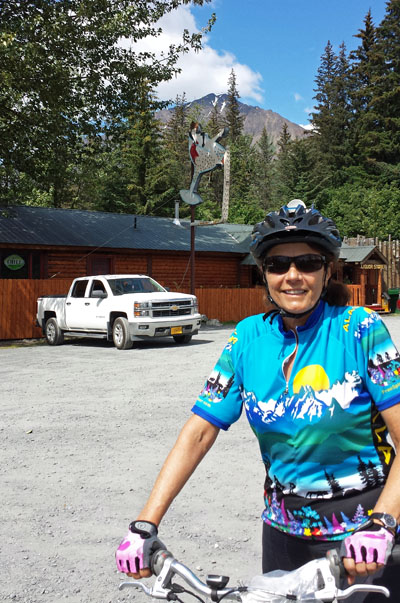 The End. (Sniffle).
UPDATE: