UPDATE: 7.7.2016 – Dr. Richard Handler's tour photo album
It never fails that I get misty-eyed when a tour ends. Some came from California, some from Washington, others from Colorado. They'd paid their fee, booked their airfare, packed their bikes (or rented here), jammed their suitcases, left their families and professional lives behind and there I first saw them, down in the breakfast area of the Comfort Inn hotel in Anchorage, looking to me with a sense of wonder, expectant. Eight days later and poof, they're gone. From leader to lonely heart I went, just that fast.
A long time ago I heard a story on the radio. A missionary was asked how he goes about converting indigenous people to Christianity. The part of his answer I recall is that he doesn't start by preaching to them right away. He said where possible he likes to fulfill their basic human needs first – food, medicine, security, etc. – as a way to get them to warm to him first, and only then does he deal with their spiritual needs. Bike tours are similar. You have perfect strangers in a strange land looking to you to fulfill their expectations for a fun tour, but instead of jumping right into the itinerary, I find food & drink limbers them up. Happy Wife agreed and thought, Hey, let 'em eat Muktuk!
Let's just say whale blubber is not the seduction I'd hoped for. It did not taste like chicken, though it did have the texture of uncooked chicken. Possibly one that had been left in the sun for an hour or so. Imagine feeding native people gumby erasers and then trying to teach them about Jesus. That's not going to work!
Fortunately, we'd also brought a cheese and vegetable tray, salmon spread, moose jerky, crackers galore, two growlers of local craft beer, and several bottles of wine. Now that had 'em eating out of my hand. I could have told them anything and they would have believed me. For instance, Hey everyone, the forecast is sunny, warm, and dry the next seven days!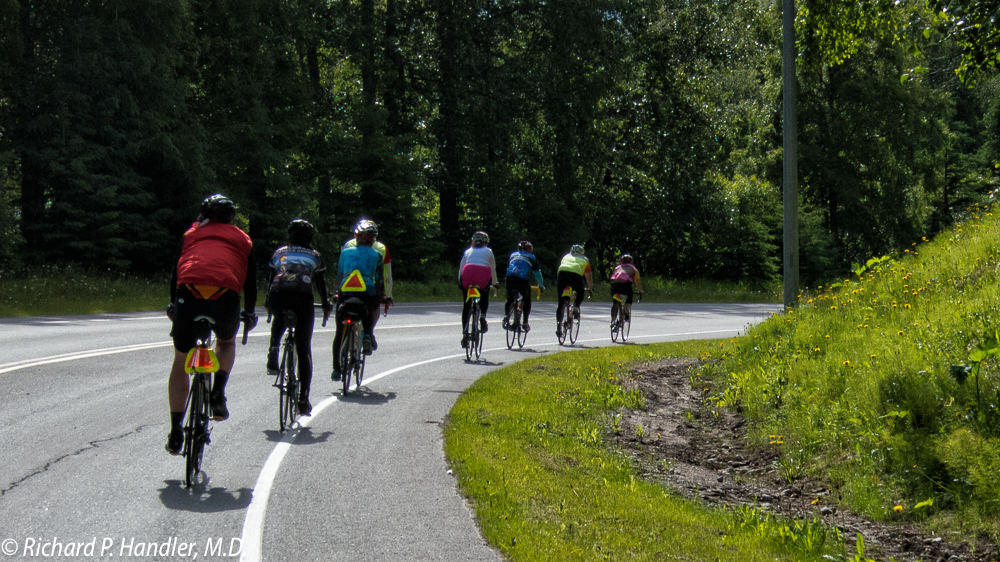 In fact, Day 1 was pretty nice. The nicest of seven (6 days riding, 1 day off). Seeing shadows makes a tour leader happy. There were eleven of us in total, plus my trusty SAG (Support And Gear) driver Sally, with Happy Wife providing lunch each day. Day 1 was titled Tour de Anchorage, a beltline ride around Anchorage on roads and trails hand-selected by yours truly. About 50 miles. The lunch special was moose chili, which they all loved except one (she averse to red meat). For her there was tuna salad.
On day 2 we left Anchorage behind and began what was supposed to be a 3-day ride to Seward. Girdwood was the goal for the day, about 50 miles. We got as far as the lunch stop (McHugh Creek), about 25 miles, when the headwind became so fierce (~ 35-40 mph) I decided with that, plus rain ahead, it was not prudent to continue. See those trees bent over? We reorganized the gear in the SAG van and everyone piled in. Some bikes went in the trailer, others on our Subaru. The day was a wash, we drove the rest of the way to Girdwood. Instead of McHugh Creek, we had lunch under the cover of the entrance to the day lodge near the ski lift, listening to the pitter patter of rain and trying to stay warm. Couldn't have been more than 55o or so. I grabbed my phone and checked the radar. What I saw did not make a tour leader happy. However, our digs that night I was sure would thrill my peeps (I'd begun to feel like their Mother Hen). I managed to get the good guy Alaska rate at the Alyeska Prince hotel, much more posh than is expected on this sort of tour. I figured by morning they'd be eating out my hand, weather be damned.
In spite of the forecast Day 3 was looking good as we pedaled away from the hotel. At least it wasn't raining. Even when we turned south onto the highway the wind wasn't bad. Unfortunately, by the time we got to the Wildlife Conservatory it was in our face again, although not quite as bad as the previous day, and it had started to spit rain, and get cooler still, maybe 52o? No matter to this bunch, they all wanted to see the animals anyway. We paid the fee and pedaled around the muddy park road. We saw bison and deer and caribou and fox and lynx and even a grizzly asleep on a log
Not a frown in the house despite the horrid weather
To say my peeps were troopers this day doesn't capture it. After that we climbed to Turnagain Pass and had lunch (pulled pork sliders), descended briefly to Hope Junction, and then finished the day with a sturdy climb to Summit Lake Lodge. Still all smiles
During dinner at the lodge that night I looked at the radar again and was sure Day 4 would be a wash. Not so! The next morning it was a tad warmer and not raining, although the sky still had the color of day-old muktuk. I decided we'd take it ten miles at a time, have the SAG wait until everyone passed, and then try the next ten miles, and so on. Before we knew it we were at lunch for the day (~25 miles) and still no rain. Everyone seemed pleased with the venue, and the gourmet sandwiches
BFFs
Ten miles out of Seward, our destination for the day, it started to rain. Not surprising. Once again, no one seemed to care
Later that evening, in the hotel lobby, I discovered one of my peeps is a concert pianist
We had three retired MDs on the tour: Richard, 70 years old, another Richard, 65, and Jim, 75. This was the Jim's 80th (!) multi-day bike tour. When asked where his favorite tour was he said Viet Nam, a tour he actually led, more than once. He's also toured in countless other countries but never in Alaska, until last week. I first met Jim on a tour in Northern California. Was proud to have him join mine. Earlier in the day Richard (#1) tried to hook up with a local, although if you ask me she was a bit stiff
Day 5 was theirs to do as they wished in Seward. Also known as a day off. And then it was back to Anchorage by train for them, Sally drove the SAG and Happy Wife, myself, and the Black Dog followed in the Subaru.
The next day looked good weather-wise, so Happy Wife suggested we do the Independence Mine climb in Palmer instead of the scheduled ride for the day, seeing as bad weather was forecast to be moving in again, and of the two days left to ride, Independence Mine was one not to be missed. So everyone piled in the SAG, the bikes in the trailer, and we were off to Palmer, an hour's drive north of Anchorage.
The weather held and actually improved. By the time we reached the base of the climb most of my peeps were in short-sleeved jerseys. First time in the entire tour
After nearly 4000 feet of climbing the caribou sliders at lunch never tasted better.
Back in Anchorage, day 6 came in angry and never let up. Chilly and raining all day. Nobody wanted to ride and neither did I. My peeps scattered to do things in Anchorage. Later that evening we had our group dinner to say our good-byes
Left to Right: Tom, Karen, Diane, Me, Sally, Richard, Beth, Jim, Suzanne, Happy Wife, Richard, Dan (SB not shown, bathroom?).
Until next time my friends, here's wishing you tailwinds beneath a fair sky always…